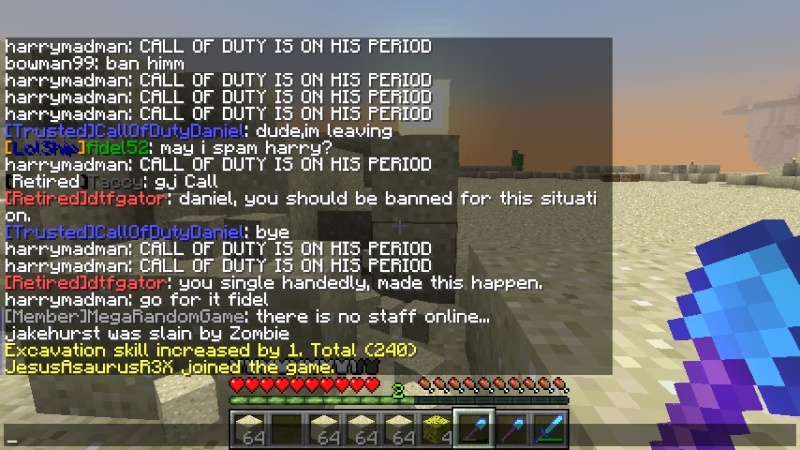 This kid harrymadman got on the server and started griefing and such. Taccy had the presence of mind to build a bedrock cube and continuously tp him into it, to prevent the griefing (as no staff were online at the time). From inside the box, harry began to start spamming random garbage about various players being dicks or whatever, I don't really remember. Anyways, despite repeated commands to daniel about not feeding the troll, and to just let the spamming run its course, daniel continued to respond with idiotic and smart-ass comments, like calling harry a "coward" and telling him how he's gonna get ip banned and whatnot. After several minutes of me pming Daniel, instructing him to STOP responding to the spammer, he finally did, and I assume their argument descended into pm's, because shortly thereafter daniel said something to the effect of "wtf lol I am not on my period" and harry began to spam across the screen what can be seen in my picutre.
Overall, although Daniel did not start the spamming or technically break any rules, his extreme immaturity and utter inability to simply stop responding to the spammers petty insults created a situation where, as far as I know (I logged out to write this), a player is spamming like a mofo and greatly detracting from the experience of all players online.

dtfgator

Professional Miner





Posts

: 1118


Join date

: 2011-02-03


Age

: 25



Congratulations you just got 240 excavation!

MrShatang

Banned





Posts

: 424


Join date

: 2012-04-01


Age

: 21


Location

: Canada



Harrymadman Has been banned for griefing and spam.
CallOfDutyDaniel Has already been warned once for him immature behavior.
I hereby announce that CallOfDutyDaniel lost his Tusted rank and was demoted to Guest.
He may still apply for a member rank.
This situation had been solved.
Topic Locked

Leagle

Master Miner





Posts

: 2491


Join date

: 2011-01-10


Age

: 27


Location

: Netherlands




---
Permissions in this forum:
You
cannot
reply to topics in this forum