Minecraft username: bullhammer59
Discord username (username#0000):ober null#4547
Where did you find out about Oasis SMP?: I found out about Oasis SMP while looking for mostly vanilla SMP servers. I appreciate the general lack of mods/plugins the server has besides quality of life additions (such as chest/door protection and no PVP outside of special areas). 
How long have you been playing on THIS server?: I have been playing since the 21st I believe (2-3 days) 
How often do you plan on being on THIS server?: For the time being I have been playing daily, but as more college work pops up I may be on less frequently. 
Have you voted for Oasis at Minestatus or Mineservers?: Yes, I believe I have done both.
Do you agree not to give out spawned items from any kits you will get with or after Member rank: I agree.
Name any Trusted, Trusted+, Artisans, Veterans, Architects, JrMods, Mods and/or Admins who would vouch for you (Do not assume, you have to specifically ask if they'll vouch): HealthMagazine, Emna, RedCenx, LinaT(I think, I've attached a screenshot) 
Why do you want to become a member of the Oasis Community? How do we know you can be trusted? (Please say more than just "I don't grief" or "I am going to record"): I enjoy the server atmosphere and the lack of mods in general. I find playing in multiplayer survival much less depressing and boring than in singleplayer. I have plans to put a good amount of time and effort into builds in the near future (map art being one of my big plans). 
Thank you for your time with reading my application.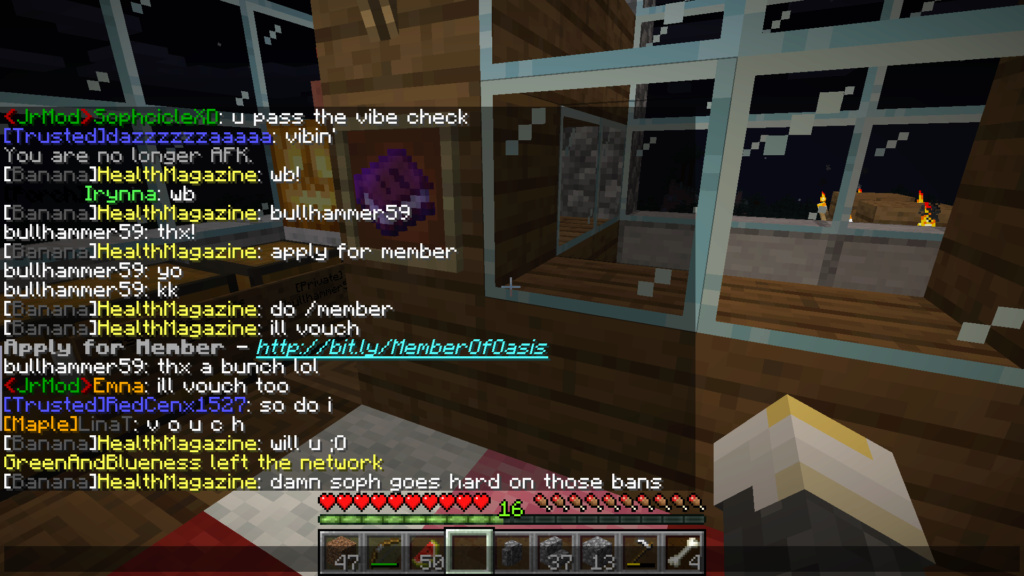 bullhammer59

Tree Puncher





Posts

: 2


Join date

: 2020-10-24


Age

: 20




Gorecore666

Forum Veteran







Posts

: 626


Join date

: 2013-04-16




Similar topics
---
Permissions in this forum:
You
cannot
reply to topics in this forum