We are so excited to finally bring you Oasis MC! This project has been in the works for some time now and we are ready to show off our latest update, of which we have many more to come!
When we set out to create Oasis MC, we wanted to work on 3 things, We wanted to make our server easier to play, more exciting options to play, and over all more fun! :P
First I want to talk about how our server will now be easier to play and find what you are looking for!

Oasis Lobby (OL)

Now when you join Oasis MC, you will be taken to the new Oasis Server Lobby! This place is amazing with cool little tricks that you will just have to join to find out :P
We have also switched to a Server UI list. When you join the server there will be items in your inventory that when clicked on will open other options like a list of servers you can click on. This will take some getting used to but in the long run it will become easier to find what you want to play!
You will also be able to join this server with any mod pack or any Minecraft version we are supporting. One place for everyone no matter what you are joining to play!
Now I would like to talk about some of our new server updates!
Oasis SMP 1.11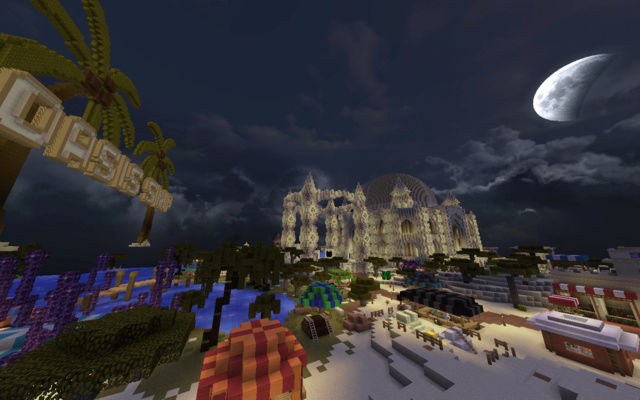 After having our last map (1.9) for almost a year, we have decided that it is time for a fresh start. I know this will bring some mix feelings but we have packed A LOT of new updates in this map and we believe everyone is going to love them!
This is a list of just a few of the updates on this map
--------
- Holiday donation sale! Get 20% off on all donation ranks! Sale stops Jan 1st.
- 1.11 Generated Seed
- The end dragon will now be respawnable in a vanilla way
- The end will reset every first of the month
- Added a mansion world (/warp mansion) that will reset every first of the month
- New Desert Theme Spawn
- New /warp warp
- New Updated Shop World
- New North, South, East, And West Portals
- Tpa and tpahere are reverted back to a $20+ donation or oasian+ perk
- We are once again accepting warp applications!

OasisZ

For those of you that don't know yet: It's minecraft DayZ! It's an adventure type minigame, where you do quests and try to stay alive among the zombies.


You can expect to see this in the first few weeks of 2017!


PVP v2

We are going to be releasing a new updated PVP server soon!



Before I talk about some of our upcoming updates we are hoping to bring to the server, I would like to talk about our community...

We believe we have the best community out there and it means the world to us! Our staff works hard to bring you a great experience and a great family community! We are a free to play server and value your faithfulness to our community. We want to make sure we can bring you the best friendly experience we can. Running a server like Oasis takes A LOT of money!! We are so thankful for the members that have donated to keep our server going! Without you the server would not be able to stay open.. We would like to encourage anyone that is willing to help keep our server going for years to come and to help make Oasis MC even bigger. If you would please think about donating to help us keep our doors open, it would mean the world to us! I'm not sure if you know or not but all our donations go to paying our host that runs the server. 100% of your money goes to keeping the server running so more wonderful players can join. We hope you would consider supporting us as a Oasis Donator!

We have so many amazing new ideas and plans we would like to bring to Oasis MC



Our new MiniGame server will use our new UI list plugin to bring a better way to find and join a game. We are also going to be refreshing our current games and also fixing A LOT of bugs :P

We have been hinting on our forums about something that has been in the planning stage for a few weeks now and I think we are now safe to finally after so much excitement announce the return of!!!!!




We are so excited about this news but we are still only in our  planning stage but we are looking forward to hopefully bringing Pixelmon in 2017!

Well thats about all for now so we would love for everyone to finally join our new Oasis MC server and see all our new updates and
let us know what you think!
_________________
<Owner>madscientist032

Similar topics
---
Permissions in this forum:
You
cannot
reply to topics in this forum