Minecraft username:Varix

Mod/Admin who banned you:Nova042

Reason you were banned:Ownerthugz gave me spiderwebs to then be found in my chest by nova042

Reason you believe you should be unbanned:Because it wasnt me it was actually ownerthugz who gave me them

Varix

Dirt Digger





Posts

: 16


Join date

: 2011-02-21



When I checked Varix's inventory, he had seven spider webs in his possession. I asked Varix where he got the webs to which he replied that he had them from back when he built Ariley's statue. I informed him that webs were not implemented in the game at that time. I then asked him if he had griefed the webs or if someone had given them to him as those are the only two ways in which he could have gained possession of them. Varix's story changed from the answer above to instead saying that he was given them by someone, quote "I think it was Ownerthugz, or somebody else". I then asked Varix to toss all seven spider webs onto the floor so that I could collect them. Rather than complying, Varix left the game. Varix was banned for lying to staff and not returning illegal items after being asked by staff.
Screen Shots of my conversation with Varix: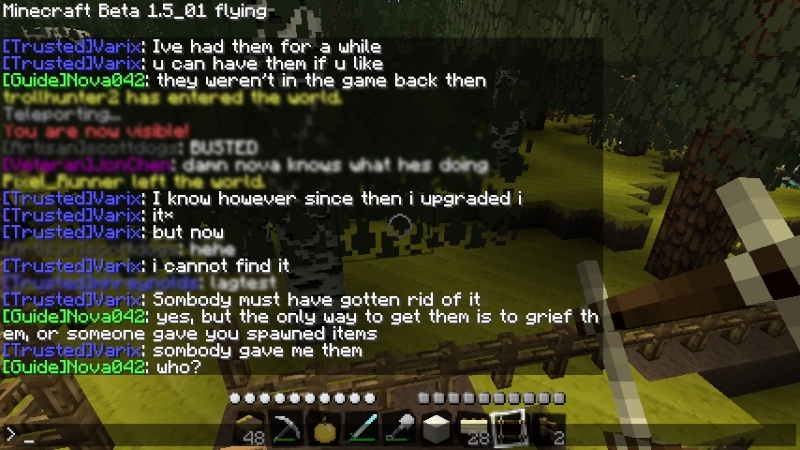 -Nova

Nova042

Diamond Miner





Posts

: 693


Join date

: 2011-02-27


Age

: 36


Location

: California, USA




Woot_dude62

Tree Puncher





Posts

: 3


Join date

: 2011-05-07



I think that the evidence Nova has presented is very good, and i pretty undoing! I propose a punishment of some sort, other than a ban! NO:ban:

znhunter

Redstone Miner





Posts

: 161


Join date

: 2011-02-08


Age

: 25


Location

: Edmonton, Alberta, Canada



Yeah he caught you red handed. I think ban might be a tiny bit to much but maybe a Demotion would be a good punishment. A thing like having spawned items is a rookie mistake.


Vegeta400

Gold Miner





Posts

: 472


Join date

: 2011-01-29


Age

: 19


Location

: In a house.



Yeah i think ban is abit to far and a demotion will be the best plan


Woot_dude62

Tree Puncher





Posts

: 3


Join date

: 2011-05-07




---
Permissions in this forum:
You
cannot
reply to topics in this forum