Minecraft username:Exikio

Real name (recommended):Franky

Age:17

Location:California

Where did you find out about Oasis SMP?:Serenade

How long have you been playing on THIS server?:Few days now

How often do you plan on being on THIS server?:Once a day most likely.

Why I deserve member status: I'm not a deuschebag to people, at least not intentionally. Also, I've played mc since beta 1.4, so I'm not that new to the game.
Last edited by exikio on 1/5/2014, 5:15 pm; edited 1 time in total (Reason for editing : forgot stuffs)
Tree Puncher





Posts

: 6


Join date

: 2014-01-03



Your a nice guy. And your active
Diamond Miner





Posts

: 659


Join date

: 2012-12-16


Age

: 17


Location

: somewhere, someplace.



you didn't include "Why do you deserve Member Status"
Last edited by Nico_Dubai on 1/6/2014, 8:01 am; edited 1 time in total
Redstone Miner





Posts

: 193


Join date

: 2013-01-08


Age

: 15


Location

: Denmark



If you can include why you deserve to be a member then you might get member status faster or the application could be denied. Staff needs more details as to why you deserve member status so they can give you the rank.

But on the other hand i have noticed you a lot about you in chat by seeing you are constantly being involved in conversations and have been online for long periods of time (like me). I may have only noticed you a few times in Chat due to me working on wolftown and its build infrastructure but when i see what you say in chat it gives me a gut feeling that you can make a great member of the community. I like to see applications for members from guest cause it helps our online "family" grow and that shows that you want to stay with oasis and not just grief the crap out of peoples builds like a lot of other guest. Im going to quit talking right now and finish with just one more word

VOUCH
Forum Veteran







Posts

: 1553


Join date

: 2013-08-03


Age

: 20


Location

: Michigan, USA



ThunderTheW0lf wrote:If you can include why you deserve to be a member then you might get member status faster or the application could be denied. Staff needs more details as to why you deserve member status so they can give you the rank.

But on the other hand i have noticed you a lot about you in chat by seeing you are constantly being involved in conversations and have been online for long periods of time (like me). I may have only noticed you a few times in Chat due to me working on wolftown and its build infrastructure but when i see what you say in chat it gives me a gut feeling that you can make a great member of the community. I like to see applications for members from guest cause it helps our online "family" grow and that shows that you want to stay with oasis and not just grief the crap out of peoples builds like a lot of other guest. Im going to quit talking right now and finish with just one more word

VOUCH
 Thanks Thunder, means a lot :D
Tree Puncher





Posts

: 6


Join date

: 2014-01-03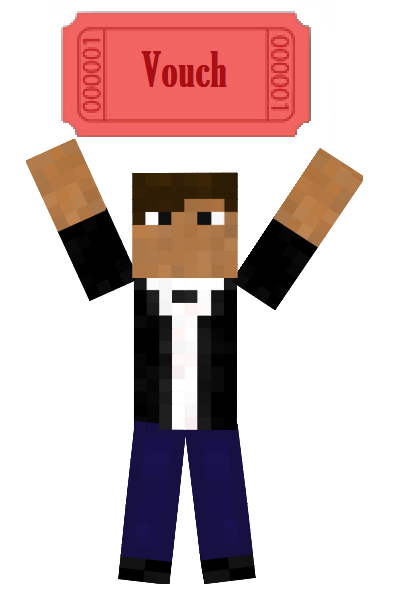 Last edited by Nico_Dubai on 1/6/2014, 8:01 am; edited 1 time in total
Redstone Miner





Posts

: 193


Join date

: 2013-01-08


Age

: 15


Location

: Denmark



Diamond Miner





Posts

: 693


Join date

: 2013-07-15


Age

: 1017


Location

: Igloo, Canada




Similar topics
---
Permissions in this forum:
You
cannot
reply to topics in this forum