Okay. I'm going to start this off by saying I've SERIOUSLY been putting off typing this, because I didnt know if it was going to persist, and I'd snap out of it. I was wrong, and it's been long, so I feel I need to make this.
Now, dont get the wrong idea. I'm not leaving the server. It's just that so much has been happening recently that I've found little to no time to get on the SMP server. Someone these distractions include: [You guessed it] Pixelmon, GTA Online with irl friends, Terraria 1.2, high school, etc. Over the course of the past couple weeks, I've just found nothing persuading me to hop on the SMP server. It's just, lost it's glow, I guess. Maybe in 1.7, I'll get more active because who knows when Pixelmon'll update, but until then, I'm not so sure.
Of course, probably just making this topic is going to push me to get on the server, because I've made these kind of things in the past, and right after posting, I get more active. I dont know. It's weird like that. I cant guarantee that'll happen with this one. Too many things are drawing me away from the server. I'm gonna take some time off, and get this time management figured out.
I'll still be on the forums occasionally. I also heard Jake [Jawell] talking about the possibility of having two minecraft windows open at once, so I might be looking into that. Who knows. Just know that I'm gonna be less active as the weeks progress.
Regards,
-Zwall
EDIT: 15 Minutes in. I have accomplished magic.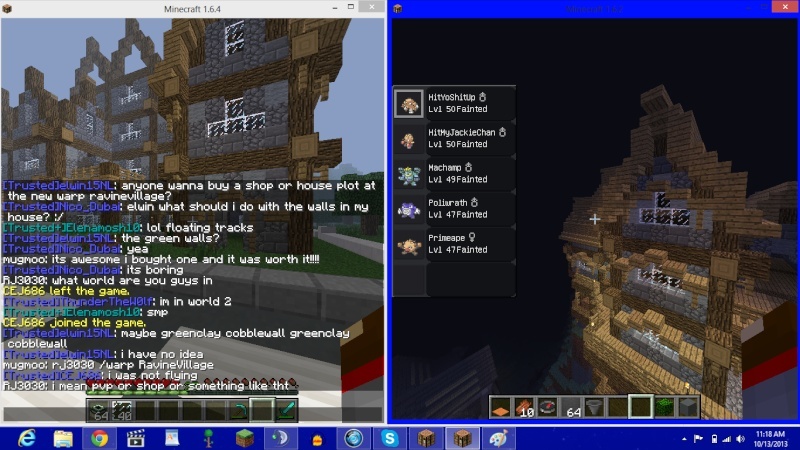 EDIT2: So, uh, I guess.. I'll return to normal activity? uh. Proably should have tried this thing BEFORE I made this topic. Uh. Wow. This can be locked.. I guess.
Professional Miner





Posts

: 1035


Join date

: 2012-01-06


Age

: 18


Location

: Around.



Emerald Miner





Posts

: 756


Join date

: 2011-05-09


Age

: 11


Location

: Swag Mountain, Oklahoma (I hope I spelled Oklahoma right)



---
Permissions in this forum:
You
cannot
reply to topics in this forum