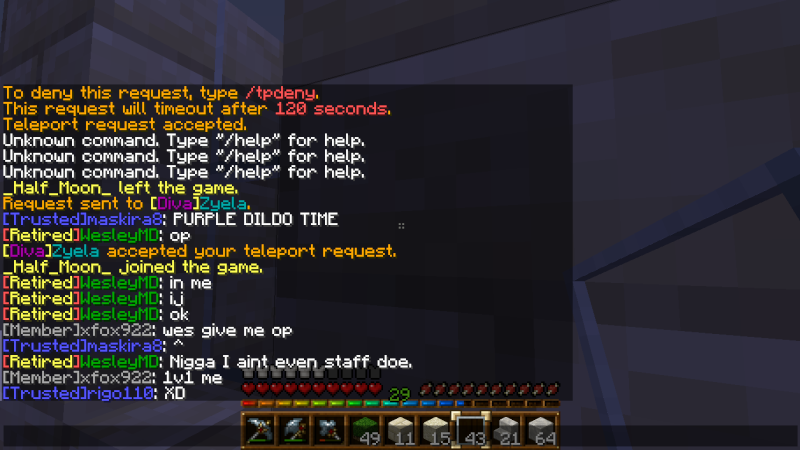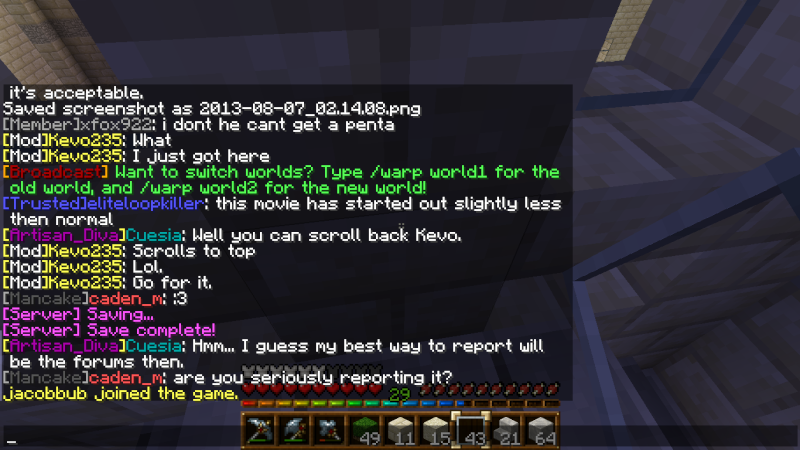 WesleyMD thinks it's funny.  I find it highly offensive, then to "LOL", "Go for it".  How about a "sorry".   Now I did mention it to Kevo in teamspeak, since he was not able to scroll up past the "LOL".  Kevo stated he would talk to WesleyMD to let him know that's not appropriate. 
Kevo did switch to WesleyMD teamspeak channel, and was followed by Snowninja845, Fox, CapnCupcake.  Was that for everyone to discuss my compliant? Was it to laugh about what WesleyMD said?  Why did they follow Kevo, to be entertained? 
I lost confidence that my complaint would be taken seriously after seeing that.   So, to the forums.  WesleyMD chat behavior was just horrible the majority of the night.  In fact, just overall chat was bad.  But, he definitely went to far.

Cuesia

Tree Puncher





Posts

: 7


Join date

: 2013-05-23



That is really appalling, especially from a former admin. I don't know how you'd punish a retired staff member, but what he said was a form of racial abuse, even if it wasn't used in context.

surv1v0r08

Lapis Miner





Posts

: 112


Join date

: 2012-10-04


Age

: 21


Location

: UK



I did talk to Wesley privately that night and I did tell you that this would be better if it wasn't blown up and taken to the community because, honestly, I do shit like wes did all the time, a lot of people do. He didn't mean to offend anyone intentionally, but he's a bit of a troll so calling him out on it has the opposite effect than it should. The way to fix a problem like this is having a one-on-one conversation with a friend to get him to know that it's not acceptable.

Still don't like how you directly took my advice and threw it out the window, but believe whatever.

[EDIT] I joined the game after someone said Wesley was talking about being an admin before or something, right at the time he said 'Lol.', but I did know to a limited extent what was going on. Personally, I don't see much of a problem with anything Wesley said, not much seems overly disrespectful or intentional, so.

Also, are we just going to ignore the fact that someone yelled GIANT PURPLE DILDO, like imo, that's worse.

Anyways, with the whole admin thing, when Wesley was admin, it was a different time, a smaller server a closeknit community, saying things like that wasn't taken seriously because everyone knew eachother and they knew it wouldn't offend.

Kevo235

Legendary Miner





Posts

: 3220


Join date

: 2011-01-31



The n word is a no. Other staff has made that clear time and time again.
Encouraging others to break the rules is also a giant NO, from me.

I've personally seen chat out of control with wesley and a couple other retireds before I was staff. I logged off because 1)it annoyed me 2)I didn't feel I could even report past staff, since no one ever seemed to give a crap what they did 3)was afraid to even ask them since it was a group of retired staff.

Kevo is right, this is not the server it was back then.. and the retired and old players likely come back thinking it is. Not just the retireds, but old trusteds/artisans/vets/etc as well. If anyone ever offends you, please tell them personally. If they don't listen, you bring it to public chat and make it known that it is offensive to you and you want it to stop. If it still goes on, reportreportreportreport.


@Grenz(maskira) that crap stays in /r /msg if you're continuing with it. I ignored it earlier since it wasn't in public chat, and other person in conversation was not bothered by it. 
DO NO BRING IT INTO PUBLIC CHAT EVER AGAIN.
I will talk to grenz later >-> 

Sorry about this experience... all we can do is try to make sure that if it happens again it will be dealt with quickly and efficiently. Sorry it was drug out into this, and you felt like you're report didn't mean anything.... I kinda know how that feels.... I played a game for 3 years where the staff just gave automated messages in response to reports, and took months to even look at it. By the time they did, the problem was gone, worse, or you had given up on a fix for it and made an alternate account or something to avoid a stalker or because your main account was auto-banned from a glitch v-v. Part of the many reasons why I quit that game (despite my addiction to it) after Logan showed me Oasis.

On another note, this is what- the 3rd or 4th thread we've had on chat alone in the past 30 days or so? (tl;d count)
Maybe chat etiquette rules should be changed and made more specific to eliminate gray areas and make things more widely known... This is getting ridiculous....
This area of the forums is reserved for players who are clearly breaking the rules, aka spammers, greifiers, advertisers, etc, when staff are NOT online to help. If a staff member is in-game at the time of the incident, you should talk to them first. Even if it's through Teamspeak, /msg, or /helpop.

With that said, I believe all ends have been closed up, and that this issue has been taken care of.

Thread locked
_________________
<Owner>madscientist032
Proud Owner & Developer of Oasis SMP/MC
Server IP: oasis-mc.us
Discord: bit.ly/Oasis_Discord
Twitter: @OasisSMP


Similar topics
---
Permissions in this forum:
You
cannot
reply to topics in this forum