Hey, Oasis!
So. I've been on the server since February (15th, I believe) of 2013, but I've never made an introduction of any sort. So here's a little bit about me:
My House
I'm very proud of my house. It's NOT made of cobblestone!! I'm very lazy, so cobblestone is my main building material. If I ever get Artisan, that's when you know the rest of the server needs to step its game up.
But seriously, I like it. It isn't TOO big, and there is a lot of glass, giving me the perfect view of the ocean that surrounds it.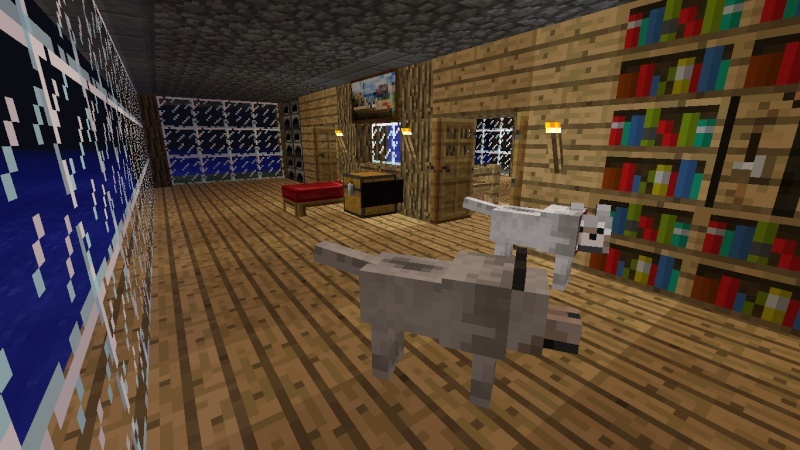 My Warps
I am the owner of /warp ebay and /warp pit.
/warp ebay is where people can go to buy and sell their stuff. Like a market. There are also store plots, but much smaller than those in /warp shop, as ebay is for the people who just want to sell a few things.
/warp pit is an obstacle course. A dangerous one at that. There's lava flowing all around you, and one wrong step can take you right into it. Every once in awhile, I hold races. If you want, you can come check it out!
My Playing
I play differently than most others. I still use WASD for controlling, but for Placing/Destroying blocks, my controls are a little messed up. I use my left mouse button for placing and my right mouse button for destroying. It just feels more natural that way.
I will ask for food or materials sometimes in-game. People will sometimes say that this is a very nooby quality, but I don't see how it is. Oasis is successful because of our friendly players and awesome staff. So why can't the players be friendly when sharing stuff? As long as you don't spam it like some noobs do, it doesn't matter.
What I can't stand is when people ask for large amounts of money. Seriously, when you say "Can somebody send me, like 100 dollars?" it sounds really dumb to me. Saying something like "Can somebody LOAN me 100 dollars?" sounds better.
I LOVE working with redstone. It's really neat, coming up with new contraptions and stuff like that. I love making redstone sliding doors. Those are awesome. I've come up with a really compact design that uses redstone lamps to eliminate the need for the redstone to do loops and twists and need a bunch of repeaters and everything. It minimizes time between the player stepping on the pressure plate and the door opening.
In Real Life
In real life, I play guitar, have a cat (Max) and a dog (Riley). The cat beats the dog silly if he gets too close, though, so don't worry about the cat. I live in Canada and contrary to popular belief, I do NOT want to drive a Zamboni across the province of Saskatchewan. (Weird Al. Anybody?) Noah is my super-cool cousin. (noahdooling) He's awesome. I can only try to be as good as him (maybe I'm a little better at redstone, but... nothing else). I've only ever been on TS once, but I'd like to go on more, as it allows you to get to know the awesome players a little better. If you haven't tried it yet, it's definitely a great experience.
So yeah. That's about it.
Later, Oasis.
- Eric Canam
Iron Miner





Posts

: 82


Join date

: 2013-02-14


Age

: 21


Location

: Canada



Welcome to the server Eric!
I talked to you yesterday in TS and you seemed pretty cool, lookin forward to getting to know you this summer!
Diamond Miner





Posts

: 703


Join date

: 2011-09-13


Age

: 21


Location

: TN



Do you live in Canada? Yes
Do you have a cat? Yes
Do you have a dog? No
Do you play guitar? No
Do you want to drive a Zamboni through Saskatchewan? Holy shit yes!!!

Also nice intro, although I already knew all of this stuff lol.
Lapis Miner





Posts

: 145


Join date

: 2013-04-06


Age

: 18


Location

: Canada



All but play guitar, my friend.
Legendary Miner





Posts

: 3222


Join date

: 2011-01-31





Similar topics
---
Permissions in this forum:
You
cannot
reply to topics in this forum