I don't know why the last one was deleted, there was nothing about that went against the rules.
The thread was a sincere attempt at explaining the actions that took place last night.
I understand that the user "harambeh" posted in it, but even that wasn't a complete troll statement, he was admitting to his actions.
I have these screenshots because I felt this might happen.
I request this thread to stay up this time, i've left the "harambeh" part out of it.
If you feel any particular post in this thread is out of line, please delete that specific post.
Sorry it's a bit blurry, but I think you can read most of it.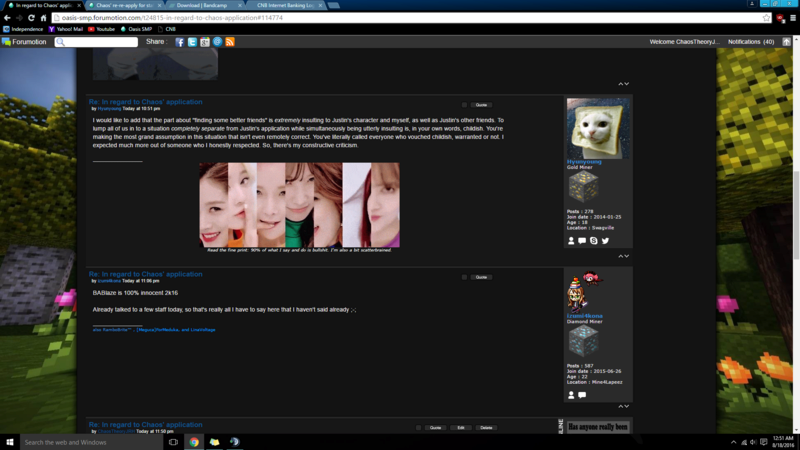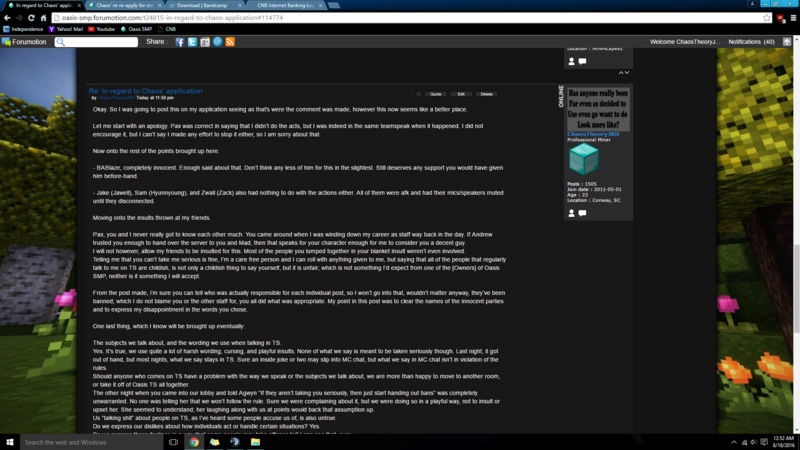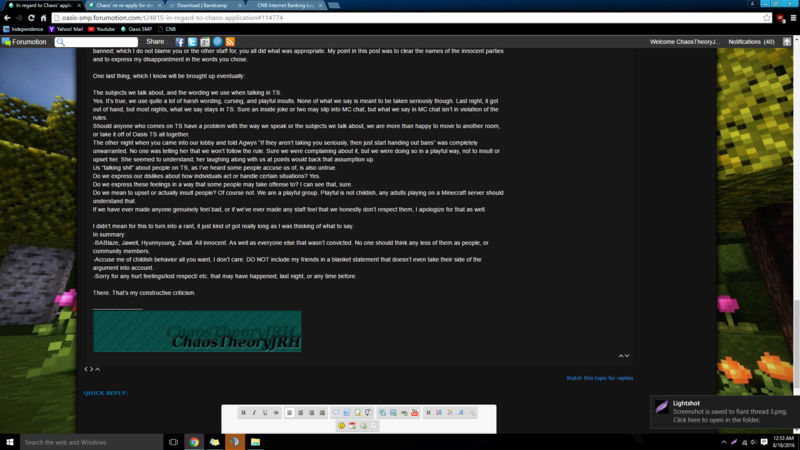 Last edited by ChaosTheoryJRH on 8/18/2016, 1:21 am; edited 1 time in total
Banned





Posts

: 1690


Join date

: 2011-05-01


Age

: 25


Location

: BF, SC



I'm just going to paste in what I said earlier.
Paxination wrote:

http://www.oasis-mc.net/t24799-i-got-banned-for-talking-about-myself#114734

Sorry, I am not taking you seriously at all. Considering you hang out with the individuals that do this.

I know you didnt do it, but I do know that you probably do encourage it. And I cant take you seriously enough to be staff any more. Every one that has vouched that you see on this page, are also part of that childish group. Their vouches mean crap at this point as well.

Basically, find some better friends and be more responsible. Theres my constructive criticism!
http://www.oasis-mc.net/t24120-chaos-re-re-apply-for-staff
I'm just going to clear some things up.  The fact that everyone on the second page of Chaos' jrmod application is getting lumped into last nights series of events is not only innaccurate, but it was a hastily made descision.  These accusations are purely based off of speculation, and there were several people in that page who didn't have anything to do with what went on in the forums.  I was asleep at the time, Sam (Hyunyoung) told me that he was afk, and I'm not even sure if BABlaze was aware of last night's events.
To start off, I want to point out how unfair it is that BABlaze is receiving any amount of blame for something he wasn't even remotely involved with, due to the fact that he just happened to be on the forums and teamspeak at the wrong place and the wrong time.   Before last night, BABlaze had never talked to any of us through teamspeak.  In the server chat, I recall him talking about his experiences on teamspeak, suprised that we didn't sound anything like he imagined.  The only reason he posted on the thread was because everyone else with us on teamspeak posted vouches for Chaos' jrmod application around the same time, as a friendly gesture.  That being said, BABlaze shouldn't be tarnished by association with something he wasn't even a part of.
Similarly, Sam and I had nothing to do with the forum posts from last night, and we wouldn't have encouraged it, had we been around for it.  Sam, being an active player on the server, wouldn't involve himself in insulting the staff, as the people from last night did.  He keeps in touch with some of the staff, and wouldn't go out of his way to betray them.  After talking to him, I learned that his reasoning for posting on Chaos' application was because he sees him as a friend and would find him to be a great addition to the staff.  As for me, I had only returned to the server a couple days ago, after working all summer, so that I could catch up with a few of my friends.  I didn't expect to get dragged into this entire mess by vouching for an old friend of mine back when the server was young.  While my vouch for chaos was crudely done, it was my way of conveying my odd sense of humor.  While this might not mean anything to you, I sent out my vouch for Justin, because I believed that his past experience as a staff member and his ability to make a connection to the playerbase would serve as a great asset to the server.  All in all, Sam and I being clumped in with the people involved with the forum posts is an unfair accusation.
To conclude, from what I have gathered, hastily accusing us of being associated with the forum posts from last night is misleading to the rest of the server.  Everybody who posted on  Chaos' application didn't vouch for him with any bad intentions. I honestly don't see why the thread had any connection with the insulting forum posts in the first place.
I'm sorry for coming off as harsh.  I just don't think anyone should sit back and take insults like my friends and I did.
Emerald Miner





Posts

: 756


Join date

: 2011-05-09


Age

: 11


Location

: Swag Mountain, Oklahoma (I hope I spelled Oklahoma right)



I'll also post my previous post, so it's easier to see. Sam if you still have yours as well, please post it again.



Okay. So I was going to post this on my application seeing as that's were the comment was made, however this now seems like a better place.

Let me start with an apology. Pax was correct in saying that I didn't do the acts, but I was indeed in the same teamspeak when it happened. I did not encourage it, but I can't say I made any effort to stop it either, so I am sorry about that.

Now onto the rest of the points brought up here.

- BABlaze, completely innocent. Enough said about that. Don't think any less of him for this in the slightest. Still deserves any support you would have given him before-hand.

- Jake (Jawell), Sam (Hyunnyoung), and Zwall (Zack) also had nothing to do with the actions either. All of them were afk and had their mics/speakers muted until they disconnected.

Moving onto the insults thrown at my friends.

Pax, you and I never really got to know each other much. You came around when I was winding down my career as staff way back in the day. If Andrew trusted you enough to hand over the server to you and Mad, then that speaks for your character enough for me to consider you a decent guy.
I will not however, allow my friends to be insulted for this. Most of the people you lumped together in your blanket insult weren't even involved.
Telling me that you can't take me serious is fine, I'm a care free person and I can roll with anything given to me, but saying that all of the people that regularly talk to me on TS are childish, is not only a childish thing to say yourself, but it is unfair; which is not something I'd expect from one of the [Owners] of Oasis SMP, neither is it something I will accept.

From the post made, i'm sure you can tell who was actually responsible for each individual post, so I won't go into that, wouldn't matter anyway, they've been banned; which I do not blame you or the other staff for, you all did what was appropriate. My point in this post was to clear the names of the innocent parties and to express my disappointment in the words you chose.

One last thing, which I know will be brought up eventually:

The subjects we talk about, and the wording we use when talking in TS.
Yes. It's true, we use quite a lot of harsh wording, cursing, and playful insults. None of what we say is meant to be taken seriously though. Last night, it got out of hand, but most nights, what we say stays in TS. Sure an inside joke or two may slip into MC chat, but what we say in MC chat isn't in violation of the rules.
Should anyone who comes on TS have a problem with the way we speak or the subjects we talk about, we are more than happy to move to another room, or take it off of Oasis TS all together.
The other night when you came into our lobby and told Agwyn "If they aren't taking you seriously, then just start handing out bans" was completely unwarranted. No one was telling her that we won't follow the rule. Sure we were complaining about it, but we were doing so in a playful way, not to insult or upset her. She seemed to understand; her laughing along with us at points would back that assumption up.
Us "talking shit" about people on TS, as I've heard some people accuse us of, is also untrue.
Do we express our dislikes about how individuals act or handle certain situations? Yes.
Do we express these feelings in a way that some people may take offense to? I can see that, sure.
Do we mean to upset or actually insult people? Of course not. We are a playful group. Playful is not childish, any adults playing on a Minecraft server should understand that.
If we have ever made anyone genuinely feel bad, or if we've ever made any staff feel that we honestly don't respect them, I apologize for that as well.

I didn't mean for this to turn into a rant, it just kind of got really long as I was thinking of what to say.
In summary:
-BABlaze, Jawell, Hyunnyoung, Zwall. All innocent. As well as everyone else that wasn't convicted. No one should think any less of them as people, or community members.
-Accuse me of childish behavior all you want, I don't care. DO NOT include my friends in a blanket statement that doesn't even take their side of the argument into account.
-Sorry for any hurt feelings/lost respect/ etc. that may have happened; last night, or any time before.

There. That's my constructive criticism.
Banned





Posts

: 1690


Join date

: 2011-05-01


Age

: 25


Location

: BF, SC



The issue of what happened in the thread should be kept between the groups involved instead of trying to publicly blow it up. You both were staff. Put yourselves in our shoes. I know what happened, and so do most of the staff. You honestly can't be surprised that we are pruning these threads.

Please refrain from making more threads about this, and deal with it in a more appropriate way.
_________________
Forum Admin







Posts

: 772


Join date

: 2011-09-22


Age

: 24


Location

: Indiana




---
Permissions in this forum:
You
cannot
reply to topics in this forum